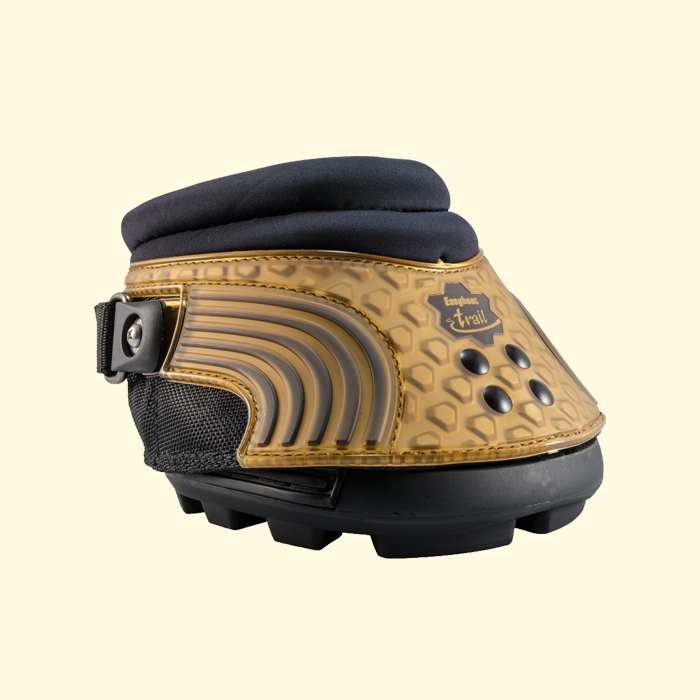 Easyboot Trail
Sold Individually.
The Easyboot Trail is the easiest hoof boot in the world to apply and remove. The attachment system assures booted success throughout the trim cycle. The boot opens up completely to easily slip on and off over most hoof shapes and sizes. The rear double Velcro® attachment protects the entire hoof wall and keeps the boot firmly in place. EasyCare Gaiters are an optional accessory (sold separately).
The Easyboot Trail features include:
Opens wide to get the hoof in and fastens with Velcro®. No additional buckles or straps to negotiate.

Offered at an entry-level price point: One of the most affordable boots on the market today.

Tough polyurethane sole offers excellent durability and grip on all terrain.
See fitting guide chart and video below.
How to Properly Measure Your Horse's Hoof
After a fresh trim, measure the width of the hoof across the bottom at the widest point.

Measure the length of the hoof from the toe to the buttress line of the heel. The buttress line is the farthest weight bearing point of the heel where the hoof wall ends. Do not include the heel bulbs in the measurement.

Compare your measurement with the appropriate size chart. Please note that each boot style has its own unique size chart.

Ideally, the length and width measurement will fit into the same size. If the length and width measurements indicate different sizes, select the larger size. If the width and length measurements are different by more than one size, your selected boot style is not recommended. Be sure to check your measurements against an alternative boot in the EasyCare line—another style may accommodate your horse's hoof shape better.
Here's why you need to measure again.
Some tips and tricks for ensuring your success.