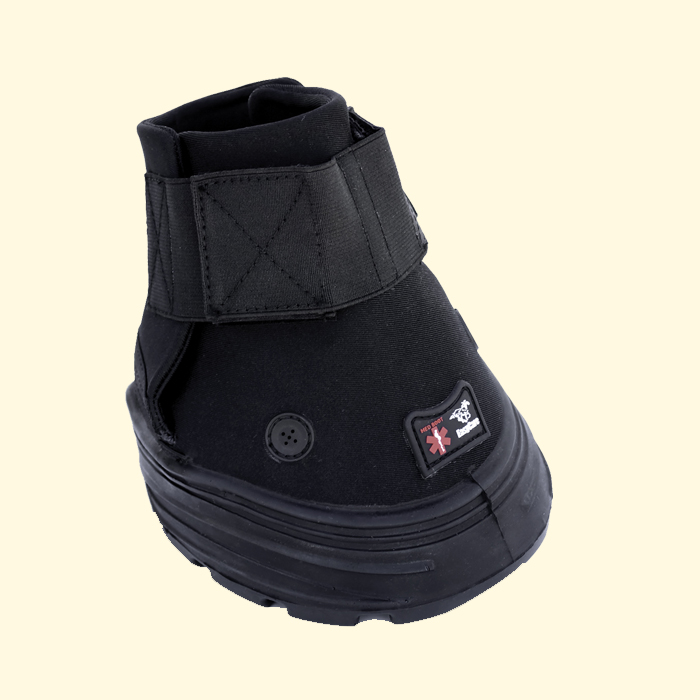 Easyboot Rx
Sold Individually.
The Easyboot Rx is just the prescription for horses requiring a lightweight therapy boot that offers stability and support. The Rx is ideal for horses suffering from chronic lameness, laminitis, founder, navicular and other lower limb/hoof problems. Each boot comes fitted with a 6mm Comfort Pad to provide immediate relief and additional sole support. Size up one size if you plan on using bandages or 12mm Comfort Pads with the Easyboot Rx. The Easyboot Rx lessens fatigue during trailering and is an excellent choice for horses that stand on hard surfaces for extended periods of time. As with any hoof or leg related injury, consult your veterinarian or hoof care professional for diagnosis and treatment recommendations.
The Easyboot Rx is not intended for riding.
See fitting guide chart and video below.
How to Properly Measure Your Horse's Hoof
After a fresh trim, measure the width of the hoof across the bottom at the widest point.

Measure the length of the hoof from the toe to the buttress line of the heel. The buttress line is the farthest weight bearing point of the heel where the hoof wall ends. Do not include the heel bulbs in the measurement.

Compare your measurement with the appropriate size chart. Please note that each boot style has its own unique size chart.

Ideally, the length and width measurement will fit into the same size. If the length and width measurements indicate different sizes, select the larger size. If the width and length measurements are different by more than one size, your selected boot style is not recommended.* Be sure to check your measurements against an alternative boot in the EasyCare line—another style may accommodate your horse's hoof shape better.
Here's why you need to measure again.