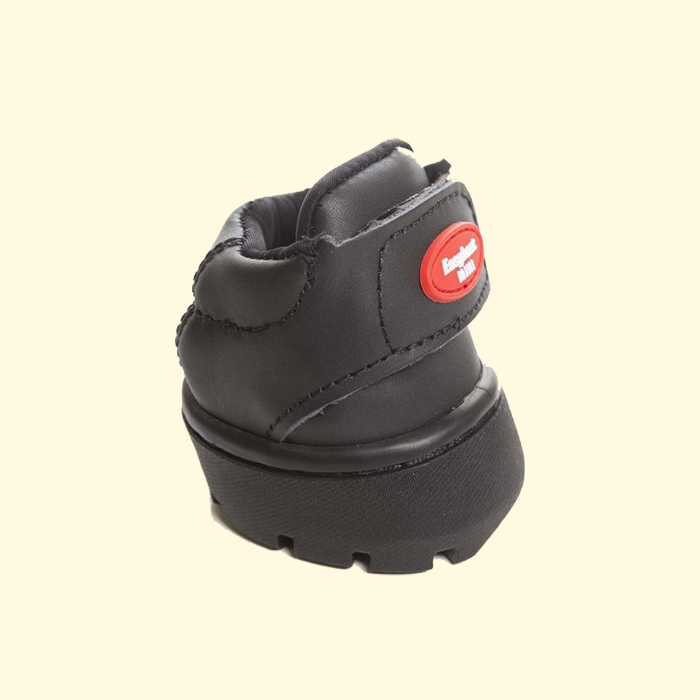 Easyboot Mini
Sold Individually.
The Easyboot Mini has been designed specifically for miniature horses, ponies and foals. Quick and easy to apply, this boot is the ultimate option for tiny hooves.
The lightweight urethane blended sole will allow for traction and protection on any surface. The durable and supple upper keeps the boot secure without interfering with the natural gait.
This is the ideal boot for light driving, therapy and providing traction.
The Easyboot Mini is a first class option for horses who encounter a diversity of terrain. The Easyboot Mini will accommodate a Comfort Pad to be used as a therapy boot.
See fitting guide chart and video below.
How to Properly Measure Your Horse's Hoof
After a fresh trim, measure the width of the hoof across the bottom at the widest point.

Measure the length of the hoof from the toe to the buttress line of the heel. The buttress line is the farthest weight bearing point of the heel where the hoof wall ends. Do not include the heel bulbs in the measurement.

Compare your measurement with the appropriate size chart. Please note that each boot style has its own unique size chart.

Ideally, the length and width measurement will fit into the same size. If the length and width measurements indicate different sizes, select the larger size. If the width and length measurements are different by more than one size, your selected boot style is not recommended.* Be sure to check your measurements against an alternative boot in the EasyCare line—another style may accommodate your horse's hoof shape better.
Here's why you need to measure again.
Hoof Geeks
Mini Hoof Stand
...trimming your mini's will be so much easier!