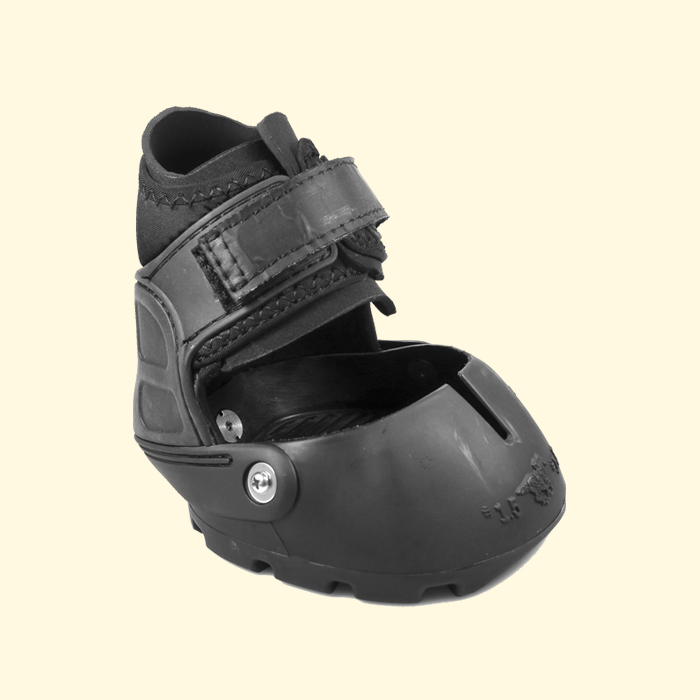 Easyboot Glove
Sold Individually.
A slim, form-fitting boot that is easy to apply. Features our best tread pattern yet, based on 40 years of experience and the latest in technology. Ideal for the well-maintained barefoot hoof. Power Straps are recommended for aggressive riding, hilly terrain and muddy conditions.
See fitting guide chart and video below.
How to Properly Measure Your Horse's Hoof
After a fresh trim, measure the width of the hoof across the bottom at the widest point.

Measure the length of the hoof from the toe to the buttress line of the heel. The buttress line is the farthest weight bearing point of the heel where the hoof wall ends. Do not include the heel bulbs in the measurement.

Compare your measurement with the appropriate size chart. Please note that each boot style has its own unique size chart.

Ideally, the length and width measurement will fit into the same size. If the length and width measurements indicate different sizes, select the larger size. If the width and length measurements are different by more than one size, your selected boot style is not recommended.* Be sure to check your measurements against an alternative boot in the EasyCare line—another style may accommodate your horse's hoof shape better.
*Note: If you are fitting an Easyboot Glue-On or Glove, width and length must fall into the same size category.
Here's why you need to measure again.
Some tips and tricks for ensuring success.
Find your perfect Easyboot.